Leadership is a Tool, Not a Toy
In C. S. Lewis's, The Lion, the Witch, and the Wardrobe, there is a wonderful scene when Father Christmas gives Peter a sword and a shield for the battles Peter must face. As Father Christmas gives these gifts, he warns Peter, "These are your presents, and they are tools not toys. The time to use them is perhaps near at hand. Bear them well."
Leadership is a tool, and yet we often treat it as a toy. We crave what we can get from a particular leadership role, when leadership actually requires us to give away everything we have in order to bear that mantle well.
Leadership is Not about Receiving Dividends
Most explicitly, a leadership role may be attractive because of the toys that come with it. At minimum, most leadership roles give the leader's opinion a little more weight. On the other extreme, consider the limitless toys that the President of the United State has at his disposal: a giant supporting staff, press conferences, armored limousines, helicopters, jets, and even the entire American military.
Who wouldn't want perks and benefits like that?
Jesus' example of leadership tells us something different, though: he gave up the glory, position, prestige, and perks of being the enteral Son of God to take the form of a servant for us (Phil. 2:6-7). Jesus came not to be served, but to serve (Matt. 20:28; Mark 10:45), and he consistently used his authority to make himself a slave (John 13:1–20).
Leadership is not about receiving dividends.
Leadership is Not about Creating Devotees
Other times, a leadership role may seem attractive as a fast track to popularity and fame. A fancy title or a wide sphere of influence can go a long way in building a leader's personal platform. In fact, if you are important enough, people will follow you on Twitter even if they hate you!
With a leadership position, your influence and authority make it that much easier to find your niche where you can build your tribe. Someone out there wants to buy what you are selling, and the visibility of leadership roles helps those people to find you faster.
But again, consider Jesus. Not only did he empty himself of his glory, his approach to leadership as the Messiah seemed calculated to avoid attention. From the world's perspective, Jesus was born to an unwed girl who was a citizen of an insignificant nation. His mother could not deliver him in her home, for she was traveling, and not even in an inn, for there was no room for him there (Luke 2:1–7). The only people who came to celebrate his birth were poor, blue collar shepherds (Luke 2:8–20).
Soon after his birth, Jesus fled as a refugee to escape political persecution (Matt. 2:13–15). When he returned to his home country, Jesus was not groomed for leadership in his country, but he quietly apprenticed his adopted father's trade as a carpenter (Mark 6:3). Nothing about his early life seems impressive or important.
Then, when he began his public ministry, he avoided attention so much that Bible scholars speak of his "Messianic Secret"—a feature appearing most prominently in the Gospel of Mark (e.g., Mark 1:34, 43; 3:12), but in other Gospels as well (e.g., Matt. 8:4; John 7:1–10). And even when Jesus did find himself surrounded by large crowds, he spoke hard truths to them so that they abandoned him (John 6:60–66) or demanded his crucifixion (Matt. 27:23).
Leadership is not about creating devotees.
Leadership is Not about Influencing Decisions
Still other times, we seek out leadership roles not for the perks or the popularity, but to have a seat at the table where decisions are made—that is, we want power. We want to contribute our ideas and have a chance to make our case so that we have some control over the decisions that will affect us.
Of course, this is true to some degree—leaders must make difficult decisions. But where this mindset goes wrong is by assuming that the best way to exert influence is through securing the authority of an official leadership position. Real leaders, on the other hand, do not wait for positions, titles, or offices before seeking to lead other people.
Just as Jesus did not pursue popularity, he also did not seek official leadership roles as a means of leading. As a member of the tribe of Judah, he did not qualify to become a Levitical priest. Furthermore, he never pursued a career as a scribe or a Pharisee, and he never sought a seat on the Sanhedrin.
Instead, he gathered a group of twelve men—none of whom were the movers and shakers of society, and some of whom were downright despised. While Jesus did some ministry in public, he primarily poured himself into these men as his disciples to take over his leadership after his departure. Jesus chose developing people over influencing policy.
Leadership is not about influencing decisions.
Leadership is Not about Discharging a Duty
Finally, we sometimes accept leadership roles not because we think that we will gain something, but because we do not want to lose something. We do not want to let someone down, so we go the route of people pleasing. Or, we arrogantly believe we are the only ones competent to serve, so we cling to control.
While this use of leadership does not seem like quite as much of the "toy" mindset as the other uses, make no mistake—taking a leadership role entirely to discharge a duty still makes leadership about serving ourselves, and not about serving those we follow. This approach to leadership is a means by which we medicate ourselves.
There are times when we must rise to an unappealing occasion, but Jesus teaches us that leadership must never be mere drudgery or duty. Jesus chose to lay his life down because he loves and cares for his sheep (John 10:11–14). No one took his life from him, but he laid his life down of his own accord (John 10:17–18)—not for the sake of duty alone, but for the sake of the joy set before him (Heb. 12:2).
Jesus teaches us not to lead for our own benefit—whether to gain something or to avoid losing something—but for the good of those we lead. Even if we don't seek perks, popularity, or power, we still need to think through our purpose for leadership a bit more.
Leadership is not about discharging a duty.
Leadership is about Making Disciples
At the end of the day, leadership is about leading people. Fundamentally then, leadership is about helping people learn and grow and flourish. So, leadership is about making disciples—helping people to be conformed to the example of the Master.
This is gritty, difficult, challenging, and frustrating work to come alongside people and encourage them forward in the midst of their fears, foibles, and frustrations, but apart from this there is no true leadership. Neither playing with fancy toys, nor receiving praise from your devoted followers, nor calling the shots, nor fulfilling an obligation makes anyone a leader. Leading people makes someone a leader.
Leadership, then, is not about what the leader gets, but about what the leader gives. In the church, leadership means learning to serve those around us by leading them to follow more closely after Jesus, one step at a time.
What this also means is that leadership is not about establishing a perpetual follower for yourself. Rather, disciple-making means teaching other people to follow Jesus' example of servanthood so that they can, in turn, lead others to do the same. Put another way, discipleship is learning to lead.
Leadership is about making disciples.
FREE eBook: Fruitfulness and Faithfulness: God's Mission and Mandate of Every Christian
Grow in God's Plan for Your Fruitfulness and Faithfulness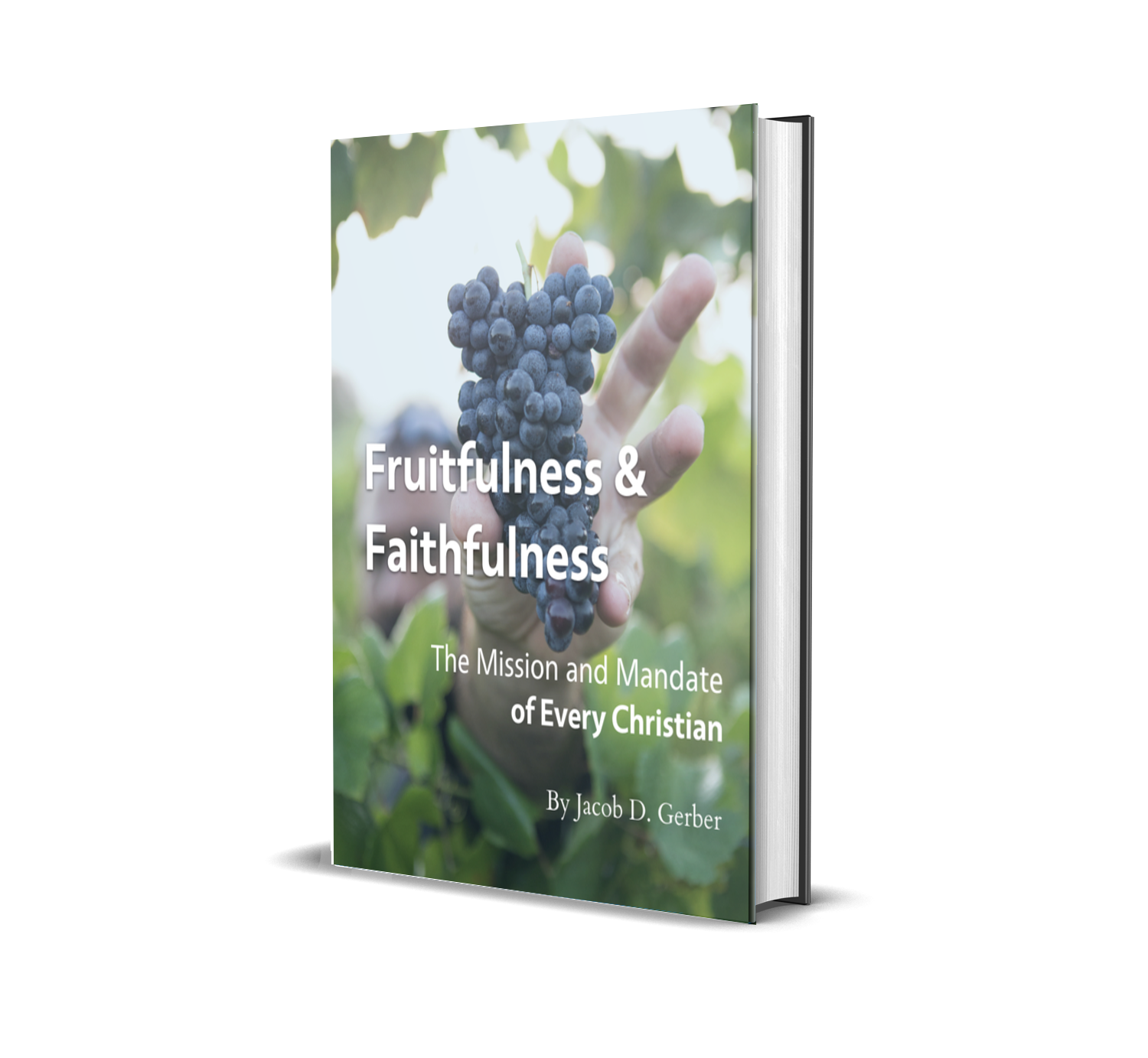 Invest Your Life Well
Discover God's breathtaking vision for the fruitfulness of his people.
Learn how to live fruitfully and faithfully in the kingdom of Jesus.
Download the free eBook now.
Bonus: You'll also get a discipleship assessment tool to evaluate areas for you to grow in fruitfulness and faithfulness.