How to Manage Projects in Evernote
This article about how to manage projects in Evernote is the fifth article in my beginner's series on using Evernote. If you haven't read the other articles already, you can find them here:
How to Manage Projects in Evernote
Also, be sure to get your free copy of 50 Ideas to Kick-Start Using Evernote.
---
The primary benefit of Evernote is its ability to archive and organize an incredible amount of information. Still, my favorite feature of Evernote is the way I use it to help me manage projects.
Why Manage Projects in Evernote
A remarkable number of project management applications exist. Why should you use Evernote to manage your projects? I find three factors of Evernote uniquely powerful for project management.
First, Evernote has a handy checkbox option for lists. Instead of bullet points or numbers, you can use checkboxes to keep track of your to-do list progress.
Second, Evernote makes it easy to store all your reference material. Project management is more than just building a long to-do list. Keeping all kinds of reference material at your fingertips is critical, and Evernote does this well.
Third, Evernote makes creating project templates easy. If you do similar work repeatedly, you can create a project template to use again and again. Evernote even offers a library of templates that you can download and use.
How to Manage Projects in Evernote
Here is the three-step process I use to plan and manage projects in Evernote.
1) Start With a To-Do List
To begin, brainstorm every possible task that you need to do to bring a project to successful completion. If necessary, indent tasks to create sub-tasks. (For Windows: Ctrl-M to increase indent and Shift-Ctrl-M to decrease indent. For Mac: ⇧ ⌘ ] to increase indent and ⇧ ⌘ ] to decrease indent.)
As you complete tasks, check them off and create an Evernote note link to your notes with the completed task. (If you wish, it can also be helpful to mark the dates of completion.)
Then, if you are waiting on something from someone, make a note of that beside the task. In the screenshot (below), I have linked to an email forwarded into Evernote.
2) Build a List of Resources
Next, create links to all the resources you will need. By putting links to everything you will need right in the project note, you won't struggle to hunt down a critical piece of information when the deadline is looming.
Reference Materials
In the screenshot, you will notice that most of the links are green, which is the default color for Evernote note links. The blue link, on the other hand, is a link to a resource on the internet. While you can clip the article into Evernote from the internet (and you probably should, just in case the article later goes away), the choice is yours.
Brainstorm Sessions
It can be very helpful to brainstorm ideas on a whiteboard. If you do, just scan your brainstorm into Evernote by using your smartphone camera and the Evernote app.
Meeting Notes
In the same way, scan any paper meeting notes into Evernote. Or, if someone typed up the notes, save the digital document into Evernote so you can access it right from within Evernote.
Progress Logs
If you are working on a project with several people, it may be helpful to have team members keep progress logs. That way, anyone waiting for something from someone else can check the progress of that person without bugging that person directly. If so, be sure to put a link to that person's project log in the project note.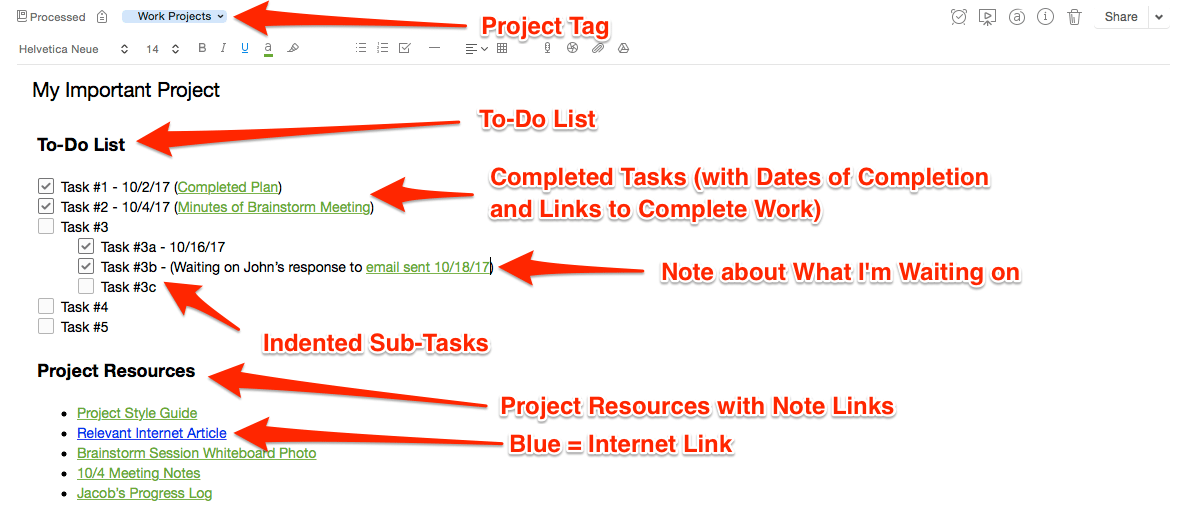 3) Keep Track of All Your Projects
Finally, I keep track of projects in two ways. First, I use a tag for each category of project. In the screenshot above, I tagged this project under "Work Projects". By tagging all my work projects, personal projects, etc., I can pull up a list of active projects quickly by filtering my notes by that specific tag.
Second, I also keep a master note with links to all my running projects. Sometimes, I forget about things I'm working on, so I try to review this master project list every week. This keeps me from letting commitments and responsibilities fall through the cracks.
What about you? Do you have any ideas for managing projects in Evernote?
FREE eBook: 50 Ideas to Kickstart Using Evernote
Your Launch Guide to Using Evernote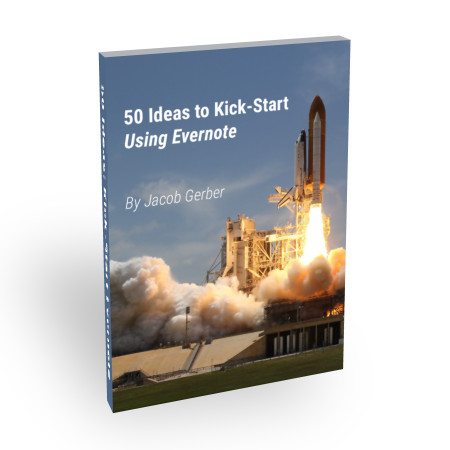 Kick-Start Your Productivity
Stop losing your best ideas.
To get your free list of ideas on how to start using Evernote, subscribe to my email list.
(I won't ever spam you. I promise.)